Hello teachers!
Myngle mascot wants to be truly multicultural. For this reason, we have developed our first multicultural mascots that you can freely use in your profile in-and-outside of Myngle. You can add it in your profile on the different social networks (MySpace, Facebook etc), post on your classifieds ads, add it to your mails… wherever you like.
We started with the languages of those teacher who gave the most lessons on Myngle. But with time, we want to extend it to all who will be teaching on Myngle. For this reason, if you are giving lessons on Myngle of a language not yet represented by our mascots yet, please let as know, as well as give us indication of what you believe are the characteristics of your language or Country. If you post it on the Forum, other users will be able to contribute to the definitions. After that, we will develop also 'your' mascot.
Have fun with it! And show all your students that learning a new language can be fun!!
There are embed codes ready for you to copy and paste on your website. You can find all of our images in our Myngle banners page. Want a sample? Here it is!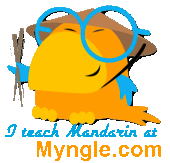 Explore posts in the same categories:
Fun
,
Myngle News